Testimonials –

please find some testimonials from some happy clients as recommendation… We are just collecting all of these from the happy clients so will keep updating this page very soon…
'I entrust Harriet with all my horses muscular & skeletal health – for thorough assessment and effective treatment, whether as routine maintenance or when specific issues occur.'
Hazel Rogers: amateur event & dressage rider and livery yard owner.
British Eventing Badminton Grassroots Championships qualifier 2013.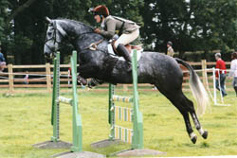 "My horse is a very funny and sensitive boy – he has his moments when he is amazing supple and soft yet others when he is very tight and worries. I am very lucky to have Harriet who understands his quirkiness & who has turned him around with her fantastic knowledge, treatments and exercises to do between treatments.
Sadly I suffer badly myself with a frozen shoulder so keeping Hugo straight and supple is key to helping our dressage work as he always gets tighter on one side due to my imbalance. Its amazing after treatment to see how different and happier he is in himself. He has muscled up beautifully ready for this coming season, sadly stretches are not an option with him so I was given other options to help his flexibility which have worked perfectly.
With his quirkiness and very sensitive personality Harriet seems to understand him and knows how to handle him without him getting stressed and allowing everything to release. I would recommend Harriet and her kind but professional approach to any one; it has helped us massively over the last 12 months.
" Steph (& Hugo!)
"We own a number of working dogs and sadly they all get old with time – we had spent numerous hours discussing our eldest dog and his treatment and what his future held. X rays showed arthritis of his spine but we couldn't get the drugs down him no matter how we disguised them. Harriet met us out on a walk and assessed his movement there and then spoke to our vet, I also sent her film footage of his back when he is at his worst. Now it's like we have another dog! His muscles on his back are much less tight and he is so much more relaxed. He loves having his treatment sessions and loves the attention too, he has started getting very excited when Harriet arrives. We will manage his condition following our discussions on the best way to do this and Harriet showing us some massages to do in between sessions – which we are now doing monthly to keep him happier and more comfortable in his later years. I cannot recommend her enough we have a very happy spaniel again thank you so much".
Matt & Roo.