Harriet has spent a number of years training thoroughly in the techniques that are used.
After graduating with an MSc in Animal Manipulation from the McTimoney College of Chiropractic in 2007 Harriet then studied with Equinenergy to become an Equine Body Worker (Sports Massage) to add to her training in Merisha Canine & Equine Massage.  This soft tissue work allowed a whole body approach alongside the McTimoney adjustments.  Further study in Myofascial Release with Equinenergy and with Jim Masterson of the Masterson Method enabled Harriet to add to her toolbox of techniques used on both horses and dogs. The McTimoney College of Chiropractic is the only institution in Europe that offers a validated MSc course for training in animal manipulation techniques and enables membership of the McTimoney Animal Association of which Harriet is on the committee.  
With a further 2 years of postgraduate training Harriet gained a distinction (and won the top student of the year award) Advanced Certificate in Veterinary Physiotherapy (Level 7) provided by Canine & Equine Physiotherapy Training – held at the University of Nottingham School of Veterinary Science accredited by the Univesity of Middlesex.  This involved a year of theory & practical training and a year of training with qualified professionals in real-life practise. This Advanced Diploma enables membership of the Institute of Registered Veterinary & Animal Physiotherapists.  To finally add to this Harriet has just completed her level 3 in Canine Hydrotherapy. 
A lot of studying… not only has this provided detailed practical training, but it has enabled a thorough underpinning knowledge of all the techniques Harriet uses to understand exactly how and why they work in order to clinically reason which technique would be the most effective to use.    
Membership of the associations ensures that professional standards are met, with continued professional development and insurance mandatory.
Research – 
Harriet's thesis for Veterinary Physiotherapy investigated the incidence of postural pelvic axial rotation in riding horses.  
A common misconception which is often reported by owners is that 'my horse's pelvis is out' however nothing is 'out' it is muscular imbalance which causes the pelvis to articulate asymmetrically onto the spine. This affects movement as the power generated by the hindquarters is not transmitted equally along the back.
Only one of the sample had a 100% level pelvis when measured objectively with a plumbline, showing that this muscular imbalance is likely to be a common problem even in horses in full work.  
Research to be published soon shows that McTimoney Manipulation can help to rebalance the musculature.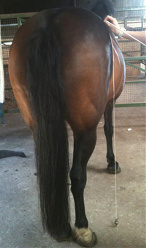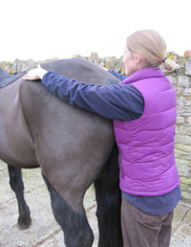 Harriet's first degree was a BSc(hons) in Psychology from the University of Birmingham (2:1), this was where her interest in movement and how the brain communicates with the muscles originated.  Her thesis investigated how the hands co-ordinate together and was subsequently published in the European Journal of Neuroscience as it confirmed a theoretical model of how a key brain area controlled the two hands.
Harriet's MSc dissertation investigated biomechanics of the hind limbs of horses and involved a lot of slow motion study of the movement of the hocks, fetlock & stifles and their asymmetries.